Posted on Thursday, September 22, 2022 02:31 PM
Statement from CAO George Vadeboncoeur:
"Over the last six weeks there has been much misinformation, disinformation and speculation about issues involving the former Fire Chief and a former subordinate, including allegations of a cover-up. This stemmed from a news report that contained inaccurate information.
The town's position is that personnel matters are confidential and we do not comment on them. This is to protect the employees involved. Keeping our promise of confidentiality...
Posted on Thursday, September 22, 2022 09:00 AM
The Town of Wasaga Beach and the Ontario Provincial Police anticipate another unauthorized car rally in Wasaga Beach this weekend, Sept. 23-25.
"Residents can expect to see a stepped up OPP presence in the community due to this event," Mayor Nina Bifolchi said. "Police will take a strict approach to speeding, excessive noise, illegal vehicle modifications, and dangerous driving. Where applicable, OPP will tow and impound vehicles."
Wasaga Beach has a long history of welcoming visitors, but the town...
Posted on Monday, September 19, 2022 11:30 AM
The development and sale of the town business park lands was approved by different councils over a series of steps over many years. Here are the facts.
In 1987, the town acquired a large parcel of land that included the business park lands through a tax sale proceeding.
In March 1997, council rezoned the lands to residential and business park.
In February 1998, business park lands declared surplus and council authorizes the sale of seven acres of land to the Simcoe Muskoka District School Board for...
Posted on Tuesday, September 13, 2022 11:58 AM
Posted on Thursday, September 08, 2022 03:49 PM
Please be advised that the construction of the River Road West and Village Gate Drive intersection improvements are scheduled to resume on Monday September 12, 2022 and are anticipated to be complete by September 14, 2022.
A map identifying the location of works is provided below. Westview Paving has been awarded the contract to complete the work.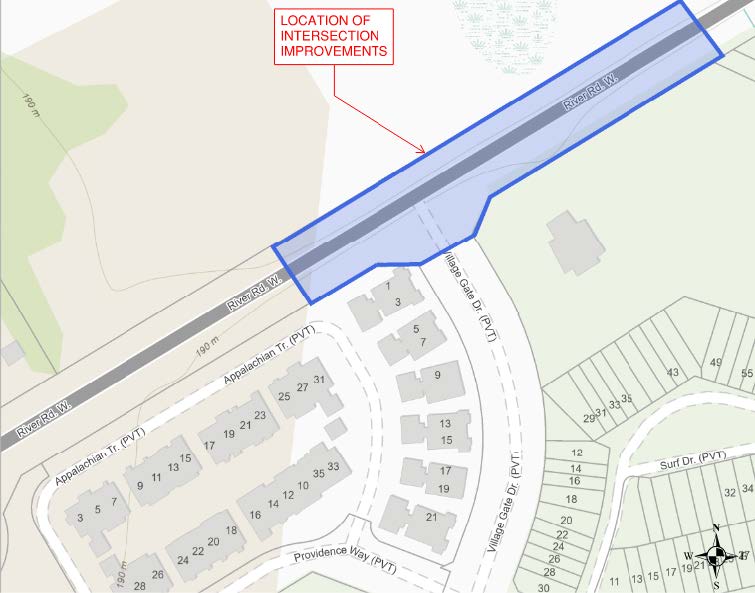 The works will include construction of a new westbound left turn lane, extension of right
turn lane tapers, replacement of surface course asphalt and line...