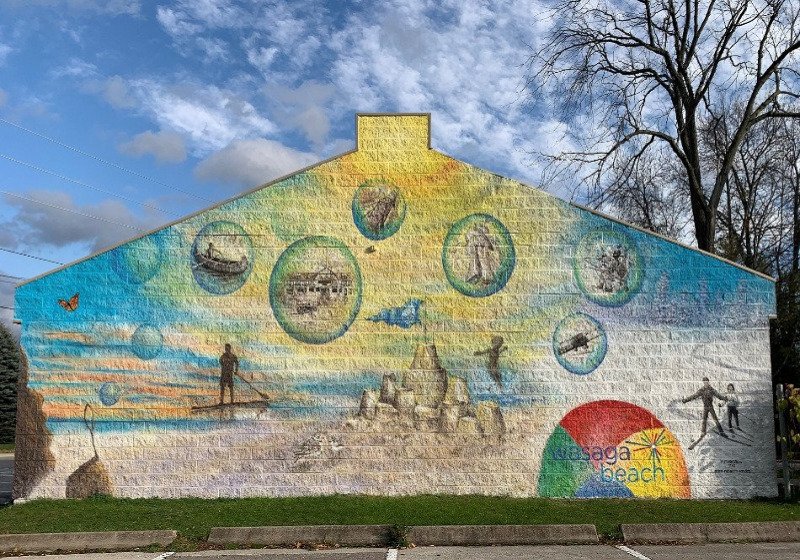 The mural at 140 Main Street, named "The Sands of Time", was designed and produced by Future Day whose artists include Eden Watt, Rebecca Remme and Sandra Remme.
About The Sands of Time
The concepts includes a backdrop of the sun, the beach and a sand castle. This is merged with both the summer beach and winter snow. Within the mural, the artists also included current popular activities via silhouettes. This includes paddle boarding, cross country skiing, and children playing on the beach. The artists also included wildlife associated with the area which includes plovers and monarchs. To add historical imagery, bubbles float throughout, showing key scenes from the past, such as the HMS Nancy, Capstan Inn, the original VanVlack Bridge, the Trail of the Caribou plane, a scene from the war of 1812 and a scene representing indigenous people of this land - all of which are iconic to Wasaga Beach. The artists also included a couple of wildlife images associated with the area - the piping plovers and a monarch butterfly.
The original image concepts were developed by sketches, paintings and photographs produced by the artists.
The Selection | Call For Artists!
The Economic Development Department released a Call for Artists in order to start the search for a qualified artist to paint a permanent mural located at the town-owned building. As outlined in the Call for Artist, the Placemaking Committee was looking for a mural concept that embraces Wasaga Beach's culture, history, and overall brand.
The selected concept by Future Day touched on Wasaga Beach's past and present and addressed the requirements as put forth by the committee. Future Day incorporated a number of images and combined them into one collage concept.
About the Artists
The mural at 140 Main Street, named "The Sands of Time" was designed and produced by Future Day whose artists are Eden Watt, Rebecca Remme and Sandra Remme. These three women are in fact related (Rebecca and Eden are sisters and Sandra is their aunt).
Sandra Remme
For over two decades, Sandra worked with many of Toronto's top designers creating indoor and outdoor murals, trompe-l'oeil, painted furniture and faux finishes. Her fine art has sold in Mexico, US and Canada.
Rebecca Remme
Over the last three decades, dozens of Rebecca Remme's original paintings have found homes, some as far away as L.A. and Copenhagen. Her work has sold through galleries and festivals across Southern Ontario as well as by commission.
Eden Remme Watt
Eden's digital imagery has won multiple awards in the area and can currently be seen at Sunset Point in a poster size image in the Town of Collingwood Tax Office and at the Georgian Bay Hotel. She is a three-time winner at the Wasaga Beach Film Festival and two-time winner of the annual Canadian Geographic photography awards and former chair of the Blue Mountain Foundation for the Arts Photography show.