Transit Related Questions? Call 705-429-7873
Where to get bus passes
Town hall - 30 Lewis Street
The Rec Plex - 1724 Mosley Street
Wasaga Beach Public Library - 120 Glenwood Drive
Online Thru Transit Fare
On Demand Transit (ODT)
On-Demand Transit services launch on November 13, 2023 for the east part of Town utilizing Route 1 service. Pre-booking/ reservations opened November 6, 2023.


Click here to watch a video about On-Demand Transit services.
What is on-demand transit?
On demand transit is a transit service without a fixed schedule or itinerary. It's a transit service where the busses are scheduled based on the rider demand – and not the other way around! By requesting and booking your rides in advance, the system knows where to go to efficiently meet the demand at each moment in time.

Watch the video to learn more


Which areas are covered by the on demand transit service?
The first phase of on demand transit will only be available along the easterly portion of Town, optimizing the bus service from Route 1, east of Walmart.
Route 1 in the ODT coverage zone will continue to use the existing bus stops along River Road East, as well as other new virtual bus stops as highlighted in the Blaise Mobile App. Click here to view a map.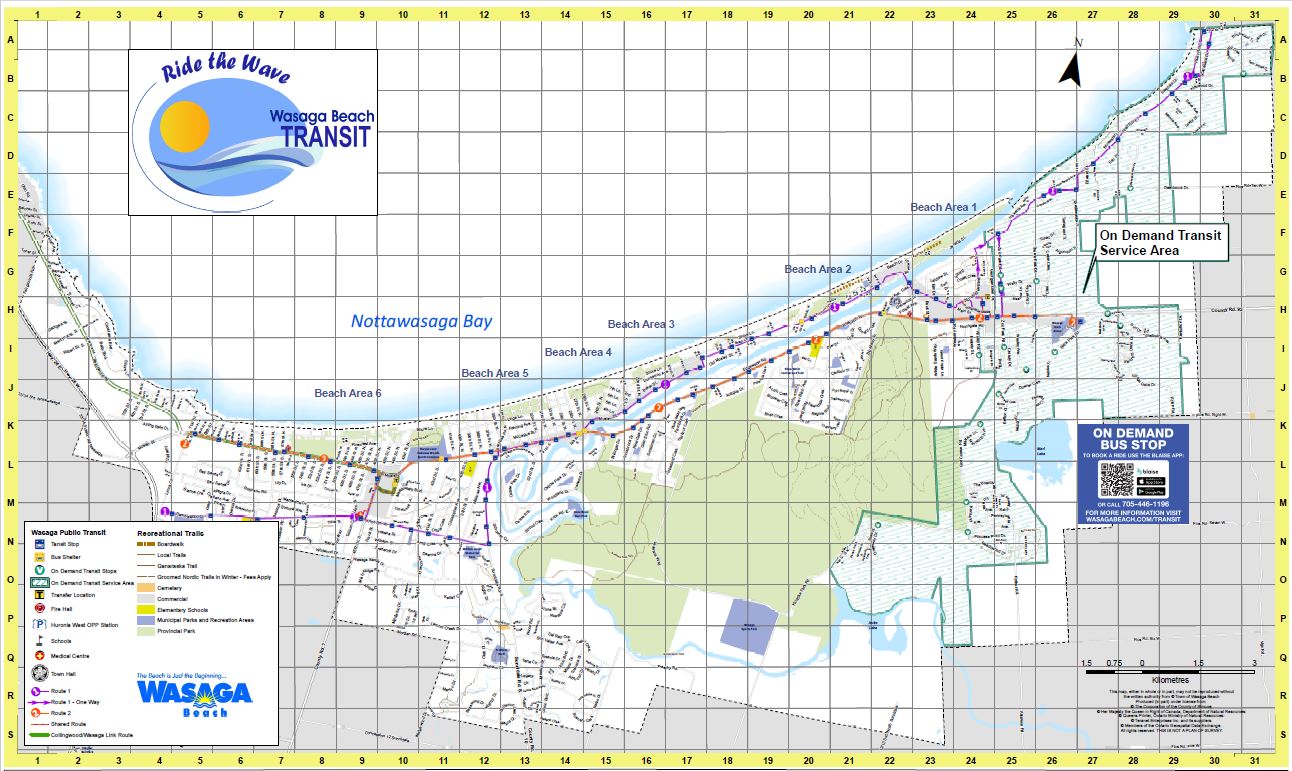 Is the service free?
Regular transit fares still apply, however it is free to download and book rides with the app!

Is the service available on weekends?
Yes. The on demand transit service will be available on both weekdays and weekends.
Current (fixed) bus schedules, west of Walmart (along Route 1) will continue during their stipulated/fixed times. There are no changes to Route 2.


Do I need to book ahead?
Yes. In order for the service to work properly and efficiently, transit users must book their trips in advance. You can book your trip up to 7 days in advance and right down to the final 15 minutes before your ride. Once booked, the bus will pick up and drop off at the existing stop locations or new virtual stop locations throughout the easterly limits of Town. Again, this service applies to the easterly portion of Route 1 only.

What are the different ways I can book a ride?
You can book a ride in 3 different ways:
Using the Blaise App. Download the app for free on your smartphone or tablet with iOS or Android
Online on the Blaise website
By phone at 705-446-1196

How do I book a ride in the app?
Download the Blaise Transit mobile app.
Sign up or log in
Select Wasaga Beach as your transit operator
Book a ride

Enter your origin and destination locations.
Select your departure or arrival time.
Submit your trip.
TransitPLUS Specialized Transit
The TransitPLUS specialized transit service is a shared ride, door-to-door service designed to meet the needs of the Town of Wasaga Beach's residents who have a disability that prevents them, on a regular basis, from being able to use the conventional transit service. Specialized Transit enable residents to stay active within the service areas of the Town of Wasaga Beach, Town of Collingwood and Township of Clearview.
Accepting applications as of Friday October 21st 2022, service is expected to start in November 2022. Specialized Trans​it is available on an unconditional, temporary, conditional, or emergency basis depending on eligibility. Registered clients may use the service for any purpose, subject to vehicle availability and ridership demands.
Trips are not guaranteed and the service is operated in accordance with policy and procedures as reviewed and amended from time to time. Specialized Transit hours of service and fares are the same as Conventional Transit Hours and Fares.
How To Apply
If you are interested in applying for the TransitPLUS Service find out how below.
You must complete an application form that you can obtain by:
Picking up a form at Town Hall, the Library, the Rex Plex or at Landmark (50 Sanford Fleming Road, Collingwood ON, L9Y 4V7)
Once you have the form you will need to complete section A and have a health care professional complete section B.
Completed submissions will be accepted via email (reserve.st@landmarkbus.com), by Mail, or in person at Landmarks Office
Contact Landmarks Office at 705-446-1196 for further information regarding a application.
Cancellations
Cancel any trip that has been scheduled that you do not wish to use as far in advance as possible.
Scheduled trips not cancelled at least 3 hours before the scheduled pick-up time will be recorded as a late cancellation.
Scheduled trips not cancelled at least one-half hour before the schedule pick-up time will be recorded as a no-show. Excessive late cancellations and/or no-shows could result in suspension of an individual's registration.
Things Registrants Should Know:
Companions
Companion(s) may come with you provided there is enough space available at the time of booking. Please try to be reasonable with the number of people you consider bringing. All companions must each pay the same one way fare as the customer.
Support Person
A support person can travel for free with confirmed eligibility. Complete the application form and follow the submission instructions.
Groceries
Groceries and other parcels may be brought with you on Specialized Transit. However, drivers will not assist with carrying groceries or similar packages. Arrangements should be made for someone else to assist you if you cannot carry packages by yourself.
See our Accessibility page for the Committees commitments and AODA requirements.
Transit Map/Schedule Brochures
Transit Map/Schedule Brochure is also available at:

Chamber of Commerce
Town Hall
Sinton-Landmark
RecPlex
Arena
Public Works
Medical Centre
Transit Passes and Fees
Transit passes are available at:
Town hall - 30 Lewis Street
The Rec Plex - 1724 Mosley Street
Wasaga Beach Public Library - 120 Glenwood Drive
Wasaga Beach Transfers
A bus transfer system allows passengers to transfer between routes without paying an additional fare. Transfers are good for approximately 45 minutes. Transfer points are common areas located where the buses meet and are as follows:

Stonebridge Town Centre
Riverbend Plaza
Sunnidale Road
Mosley Street
the Medical Centre
the 45th Street Area
A Wasaga Beach Transfer can only be used to transfer from one bus route to another. The transfer does not permit the user to board the bus for a return trip on the same bus from which the transfer was given. Bus patrons are expected to pay to ride the bus in each direction of your trip.
Route Information
Routes 1 and 2
7 days a week 7:00 a.m. to 9:00 p.m.
The Town of Wasaga Beach is committed to developing, implementing, maintaining, and enhancing accessibility for all residents with disabilities.
Wasaga Beach Transit shall ensure that it complies with the requirements under the Accessibility for Ontarians with Disabilities Act, 2005 (the "AODA"), including the training of the employees, agents, volunteers, or others engaged in the delivery of the service. If you require accommodation while using our transit service, please notify the driver.
Route 1
Starts at the Stonebridge Town Centre, travels along Stonebridge Boulevard to River Road East.
The bus then travels easterly along River Road East to Archer Road and Cedarlane Drive and proceeds down Cedarlane Drive to Eastdale Drive.
The bus then travels westerly along River Road East to Zoo Park Road.
It then travels South on Zoo Park Road to River Road West back to Stonebridge Town Centre.
It then travels North on Main Street onto Mosley Street heading West to Riverbend Plaza.
After passing Riverbend Plaza, the bus travels West on Mosley Street to Sunnidale Road South and then turns onto Knox Road West.
The bus continues along Knox Road West to the Medical Centre on 45th Street.
It departs the Medical Centre, passes through the Superstore and Shoppers Drug Mart malls, heads South to Ramblewood Drive and continues West to Lyons Court and Mosley Street.
From there it begins its return trip.
Route 2
Starts at the Stonebridge Town Centre, the bus travels along Main Street to River Road West to the Riverbend Plaza continuing along Mosley Street to 45th Street where the bus stops at Shoppers Drug Mart, the Medical Centre and the Superstore.
The bus then continues west along Mosley Street to 71st Street, returning to the Superstore.
From the Superstore, the bus begins its return trip travelling along the same route in the opposite direction to the Wasaga Stars Arena and then travels West along River Road West to the Stonebridge Town Centre.
Other Linked Routes and Services
Regional Transit Map
The Regional Transit Map covers:
Wasaga Beach
Stayner/Clearview
Collingwood
Town of blue Mountains
Clearview Stayner Transit Route
The Clearview/Stayner Route is independent of the Wasaga Beach route but can be obtained at the Wasaga Beach Transfer Hub located at the Real Canadian Superstore.
Simcoe County LINX
NOTICE: Effective August 6, 2019 the Wasaga Beach Link was assumed by the County of Simcoe.

For more details and information on schedules and fares, please go to the Simcoe County LINX website. The new LINX Service will also provide transit service to Barrie.

Please see the LINX website.