Read our Reserves and Development Charges Q&A to learn what these important financial tools are all about and how they assist with the delivery of valuable public services and infrastructure in our community.
What are General Reserves?
Council establishes General Reserves as a place to set funds aside for future requirements.
Some reserves are for a specific purpose, such as the Water and Wastewater Reserves, which fund the water/wastewater system. User fees not required for annual requirements go into this reserve account.
However, the majority of reserves are for any purpose, whether operating or capital, and are classified as unrestricted reserves, which means they can be used as council deems appropriate. These funds may be used in regular annual budgeting or may be put aside to provide funds for unforeseen expenses. A surplus at the end of the year or a planned budget contribution supports these reserves. Tax dollars also fund these reserves.
What are Reserve Funds?
Reserve Funds are restricted in their use. They are established through legislative or other external requirements. Examples include development charges (Development Charges Act), grants from other governments (federal gas tax, provincial gas tax, Ontario Community Infrastructure Funds), parkland funds (Planning Act), building funds (Building Code Act), donations (donor restricted). Reserve Funds are referred to as "Obligatory Reserves".
Contributions to obligatory reserves come from external non-taxation sources.
What are Development Charges?
Development Charges are fees imposed on new residential or non-residential development by municipalities, both lower tier and upper tier and school boards.
Development charges (DC) represent deferred revenues, which means the town collects these charges and immediately puts them in the Reserve Fund until such time as the town needs the funds for a capital project that is eligible to use DC funding. These funds are not recognized as revenue for the town until they are used for a capital project.
Why do municipalities such as Wasaga Beach impose development charges on new development?
The Development Charges Act and associated regulations permit the town to impose development charges on new development so that the fees collected can pay for new infrastructure required because of the new development. Otherwise these costs would be borne by existing taxpayers, which is not fair. The principle being applied is, "that growth should pay for growth".
A municipality is required to undertake a "Development Charge Study" to determine future growth required projects. The study must also identify what part of the project, if any, represents a benefit to existing residents, resulting in a discount to the development charge that can be proposed. The town's Ten Year Capital Forecast is used as the basis for the Development Charge Study and is updated as part of the annual budget process.
Can you give examples of new town infrastructure that would be required as a result of growth?
There are several examples. The widening of River Road West or Mosley Street from one lane to two lanes, an expanded Fire Hall to service new developments, a second ice pad, or an expanded library.
What types of growth related services are eligible to be included in calculating a development charge?
Roads and related, Library Services, Water Services, Indoor Recreation, Wastewater Services, Parks, Emergency and Fire Services, Storm Drainage, Transit, Development Related Studies. Cultural, arts and tourism facilities are not on the list of eligible services under the Development Charges Act.
What is the Development Charge for a single family home or semi-detached?
Developments charges are currently $27,585.
When are they proposed to increase?
Council has phased in the increases. 75 percent of the increase happened May 24, 2021 and the remaining 25 percent will be implemented Jan. 1, 2022 on the residential charges. The non-residential charges increased May 24, 2021. They are not being phased-in because they have already been discounted from the full proposed level of the charge.
Why have they increased?
The town is growing at a fast rate and needs services to accommodate the growth. Between 2010 and 2019 2,703 occupied households were added, a 39 percent increase. Substantial growth is expected to continue as Wasaga Beach continues to be a desirable place to live. Costs of certain projects have increased and new projects have been added to service the new growth.
Can developers afford the increase?
Developers never like to see an increase in development charges. Town officials have reached out to several developers and they are aware of the increase. They have told the town they appreciate the phased approach and look forward to continuing to build in Wasaga Beach.

Development Charges are part of the soft costs a developer pays and includes processing and permit fees. These are in addition to the hard costs such as land, building materials servicing costs. Developers build into their prices of new homes a certain amount for soft costs.

Developers budget for their planned developments, are aware of municipal development charges and include estimates for the expected increases in their budgets. The higher the sale price of a new home, the easier it is for the developer to absorb the costs. The average price of resale single family homes in Wasaga Beach exceeds $550,000 and a number of new developments are selling homes higher than that.
Do existing local residents pay development charges?
Existing local residents do not pay development charges. Development charges are paid on new housing developments or new non-residential developments. Future residents or future commercial developments pay development charges on the basis that growth should pay for growth. If development charges were not paid, the cost of growth would fall to existing tax payers.
Are development charges the same as taxes?
Development charges are not taxes. They are fees paid by developers to cover the cost of capital upgrades to municipal services required due to growth.
What would happen if developers did not pay development charges?
Projects to service growth needs would be postponed. As well, projects that are required to proceed because of service demand would be financed through higher tax increases and/or more debt.
How does the collection of development charges relate to the construction of the new Twin-Pad Arena and Library?
The total project cost is $59.9 million dollars. Development charge funds are projected to fund $14.2 million of the initial cost, general reserves and other obligatory reserves are to contribute $13.6 million, and taxation will provide $376, 481 for a total of $26.1 million. The remainder is to be funded through debt. It is anticipated that the debt will be paid primarily through future tax revenue. Depending on the financing instrument chosen, development charges collected from future development may pay a portion of the debt. The second spectator arena and the expanded library are growth related projects. If development charges were not collected for these needed projects, the cost would be borne by existing residents.
Can a municipality use development charges to fund operating costs?
No, funding operating costs is not permitted. Development charges are for growth related capital costs.
How does the town's proposed development charges compare to neighbouring municipalities?
The current rate is at the low end of the town's comparator group. The new development charge puts the town in the middle of the comparator group, just below Collingwood and just above Stayner (Clearview). The chart below shows the comparison.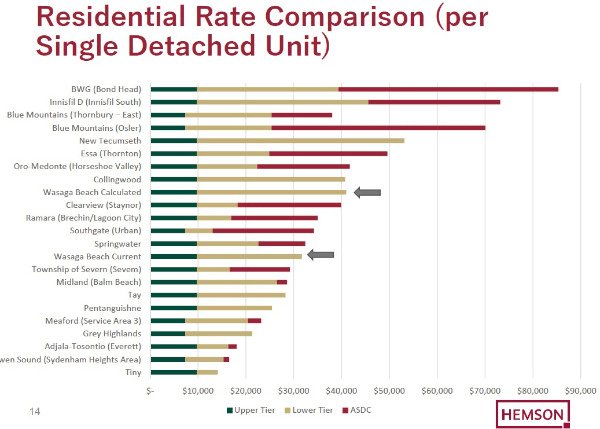 What is the overall balance of the development charge deferred revenues at the end of 2020?
The overall balance of the development charge obligatory reserve (deferred revenues) at the end of 2020 was approximately $18.4-million based on preliminary projections.
How are general reserves funded?
There are a variety of ways general reserves are funded. They are funded through a dedicated tax allocation in the Operating Budget, through water and sewer rates, through Council dedicated grant funding (portion of the Provincial OMPF grant), and year end surpluses.
What is budgeted to be taken out of the Development Charge Reserve and General Reserve for 2021?
$21.8 million is to be taken out of the Development Charge Reserve and $14.5-million from General Reserves. That would leave $24-million in the two types of reserves plus planned contributions of $11.1-million for a projected ending balance of $35.1 million.
What are the funds to be used for?
In the 2021 Capital Budget, there are 76 projects across various Departments. The Total Capital Budget is $54.4 million. General Reserves are contributing $13.9-million, Development Charge Reserves are contributing $16.5-million, and $3.4-million from other reserves. Public Works Department Projects are using most of the Development Charge Reserve funds. The new Twin-pad Arena/Library is using $12.7-million of reserves.
What is proposed to be allocated to the reserves in 2021?
In 2021, the allocation to the general reserve is $3.9 million. In 2021, it is projected that Developments Charges will add $5.3 million to the Development Charge Reserve and $1.9-million will be added to other obligatory reserves.
As of January 1, 2021 the opening balance of all reserves stood at $60.3-million based on preliminary projections. At Dec. 31, 2021 the estimated balance is $35.1-million.
There seems to be a dramatic decrease in reserve funds balances. Is this a cause for concern?
No, the town is in a very sound financial position. This has been confirmed by the town's independent auditors.
The building up and drawing down of reserves is part of the normal capital forecasting and annual capital budget cycles. The town has a 10- Year Capital Forecast of projects and annually puts money in reserves and collects development charges to pay a portion of these projects when they are ready to proceed.
Depending on the type of capital project, such as roads and bridges, fleet replacement, building replacements, water and sewer works, etc., financing plans are developed. Development charges are used first where eligible, and the percentage available varies project to project. Grants are maximized whenever available. Following these sources of financing, an appropriate balance of general reserves, other obligatory reserves (such as federal gas tax), taxation and/or debt is used.
This minimizes tax increases for residents and businesses. Instead of paying 100 percent of a project through taxation and seeing a substantial tax increase, only a portion of the cost is passed on to the tax payer.
As growth occurs over several years, development charges collected are set aside in Development Charge Reserve Funds to pay for an anticipated growth related projects. In the 2021 Capital Budget there are several examples of growth related projects. For 2021, there is $5.4-million drawn down from General Reserves for the new Twin-pad Arena/Library project and Public Works projects are using most of the $16.5-million drawn from the Development Charge Reserves.
Will the reserves be built up again?
Yes, as part of the regular cycle, the reserves will be built up over time. Just as it took the town several years to build the reserves to $60 million, it will take several years to build them up again.
As seen in the answer to question #22, the contribution to general reserves in 2021 is $3.9-million and the anticipated allocation to the development charge reserves is $5.3-million. Over the next 10 years, general reserves are projected to increase to a balance of $26-million and development charge reserves will increase to a balance of $25.6-million for a total of $51.6-million. It can be said that this is a 'net' balance as there will be numerous growth related and other projects funded during the next 10 years as outlined in the 10 Year Capital Forecast that formed part of the 2021 Budget Presentation to Council on Dec. 15, 2020.
Where can one read the town's Financial Plan to obtain accurate information?
There are three sources:
Oct. 1, 2020 Committee of the Whole Agenda - Director, Finance and Treasurer's Presentation & Report dated Oct. 1, 2020, Re: Financial Plan – New Arena and Library Facility
Dec. 15, 2020 Committee of the Whole Agenda - Director, Finance and Treasurer's Presentation & Report dated December 15, 2020, Re: 2021 Proposed Operational & Capital Budget – Four Year Operational Plan & 10 Year Capital Plan
Dec. 22, Council Meeting Agenda – By-law 2020-134, A By-law to adopt the estimates of all sums required for all municipal purposes during the year 2021. (2021 Budget)